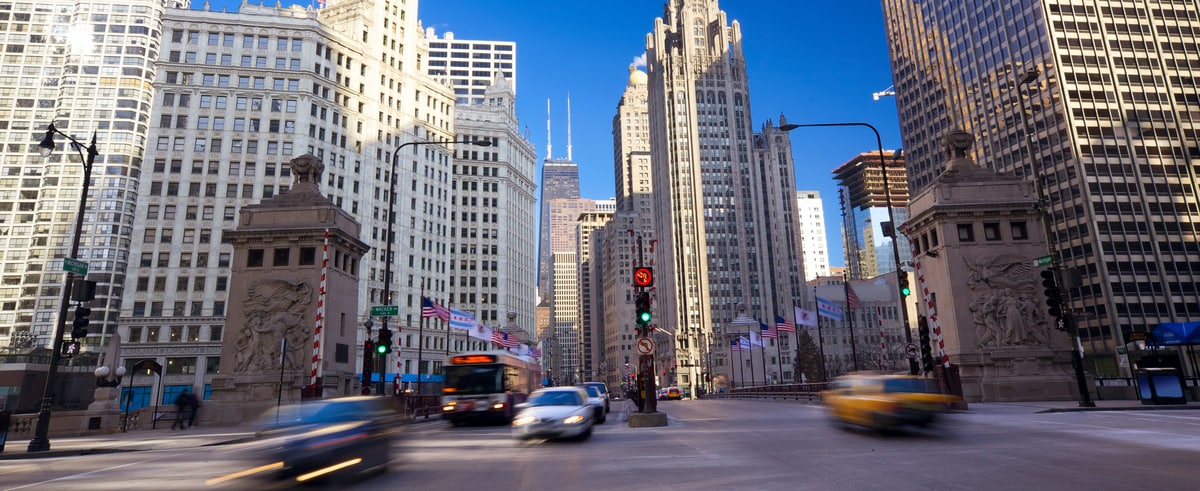 Chicago drivers like you may know the saying, "there are two seasons in Chicago: winter and construction." While this line may be poking fun at driving conditions in the Windy City, it's a great reason to seek out tips for driving in Chicago, Illinois. From serious construction in the summertime to inclement weather in the spring, fall, and winter, you'll appreciate these tips for driving in the rain, tips for driving in the snow, and other driving tips when it comes to cruising through Chicago. Read on below for the best Chicago driving tips. 
Chicago Driving Tips
Driving in Chicago is a lot of stop-and-go traffic whether you're on surrounding tollways like I-94 or I-90 or right downtown in The Loop or Museum Campus areas. Though traffic flow can be slow, the streets are well marked, bike lanes are clear and wide in most places, and Chicago is on a grid system. Unlike metropolitan areas like New York City, Chicago is a perfect grid meaning you'll never get too lost- street names raise in hundred level increments from North to South and East to West. Also, with Lake Michigan straight east, you can always orient yourself according to your position to the lake.

Aside from simple navigation, you'll want to know these Chicago driving tips related to weather like safety tips for driving in rainy conditions and more:

Tips for Driving in the Rain in Chicago
Drive at a manageable speed
Keep a safe distance between you and other drivers
Turn on your headlights
Familiarize yourself with your route before leaving in case of reduced visibility
Make sure your wiper blades and other parts are working efficiently
Use these tips for driving in the rain in Chicago and beyond

Tips for Driving in the Snow in Chicago
Talk to your local auto shop about getting snow tires
Prepare a winter driving emergency kit and keep it in the vehicle
Always dress for the weather outside in case you have to exit the vehicle for a flat tire or other unfortunate event
Keep a safe distance from those in front of you
Be sure to have good wipers and enough washer fluid to keep visibility clear
Mind snow plows and salt trucks. Keep your distance or switch lanes. 
Read street signs when parking. Some streets don't allow street parking after a certain amount of snowfall. 
Tips for Driving in Chicago in Any Weather: 
Keep an eye out for potholes, especially on two-lane boulevards on your way in from Cicero or other location
Make sure your vehicle falls under proper weight limits and vehicle classification for all roads and parking spots you may traverse. The rules can be different from townships like Oak Park.
Mind pedestrians. Like any urban area, there is a ton of foot traffic with the right of way.
Enjoy the sights and sounds, but keep your eyes on the road. 
Check for events that may reroute you or cause heavy traffic; specifically Bears, Cubs, Sox, Bulls, or Blackhawks games. 
Get More Chicago Driving Tips at Honda City Chicago
Whether you live downtown or come into The Loop from Cicero every-so-often, these tips for driving in Chicago, IL should help you have a smoother ride through the Windy City. Of course, the safety tips for driving in rainy conditions and tips for driving in the snow also apply to other areas where weather affects driving. Contact us here at Honda City Chicago today for more safe driving tips no matter where you're going!